Product information
The Kettler Unix E Ergometer cross trainer is made in Germany and has a unique design patented to Kettler, called Extended Motion. This gives you a big stride, akin to the length you'd expect from large commercial machines, but on a small footprint. The movement is smooth and shallow which dramatically reduces the risk of impact or injury to your joints.
Kettler's cross trainer allows for 4 user profiles so the whole family can store their data and monitor their progress. There are 48 different training programmes so you can really vary your workout every time you train. There are also target zone programmes for fat burn and cardio to allow you to focus your workout on the area you're most interested in.
Ergometer fitness machines accurately measure the performance of the machine and your performance; Kettler's cross trainer has 79 stages of resistance which are precisely calculated offering you more stage of workout and allowing you to regulate your training more closely. This makes ergometers ideal if you're rehabilitating after an illness or injury as you can gradually increase your performance levels.
The Kettler Unix E cross trainer has an integrated Polar pulse receiver for use with the chest strap that is included with the machine. So you can monitor your heart rate and target zones as you workout.
Safety Warning: Before starting a new exercise programme we recommend you consult your doctor or other professional medical adviser. Click here for more information
Delivery
UK mainland delivery within 7 working days; may be longer for N Ireland, island and rural postcodes

Free
International delivery not available
Returns
We want you to be happy with your purchase. If you're not, just return the products to us or to one of our shops. Unless faulty, we'd like this to be within 90 days of purchase. Exceptions apply to certain products - find out more about our refund policy.
Depending on the type of product, you can make free returns via our shops, Royal Mail (or courier collection for large or heavy items), Collect+ or via MyHermes.
Kettler Unix E Ergometer Cross Trainer
6
6
It does not work!
Full of hopes for increased fitness I purchased this machine. I have just finished 20 minutes of work on the second machine and this one broke down as well! The first one lasted about 2 months and then broke down. It took the repair people four weeks to attend and then they needed a spare part that had to come from Germany, two months later the engineer arrived WITH THE WRONG SPARE PART. John Lewis was kind enough to send me a replacement machine, but alas this lasted only 20 minutes before breaking down as well (apparently with the same fault: the belt driving the wheel has run off...). I hope John Lewis will rise to the occasion and lets me choose a different brand: anything but Kettler!
24 February 2013
Quality trainer, but expensive
I have now had this for about a month. It is quiet and smooth in use, and is very compact given the stride length(handy if you are tall). As others have said the packaging is poor, and you would never be able to repack this item should you wish to return it. So I would advise not to buy it unless you have tried it in store. The JL delivery guys struggled to get the machine in, and the plastic casing was scratched, but this did polish out. Given the price for this trainer connectivity for additional features is poor only USB, which means you have to have a PC close by, but this is a feature I do not require. Overall pleased with the performance, and you do get a seven year warranty if you remember to take the card off the packing, and register with Kettler. Only time will tell but seems good so far.
24 December 2012
Quality machine
I bought this along with the kettler bike and rower. It is a brilliant little cross trainer and when i say little its the same size as the john lewis model but still has a large stride length which is what I need when over 6ft tall. The amount of programmes built in is also very good compared to other types that I looked at with doing my research. Not had a problem and this gets used lots, the one time i did have a problem and that was due to the chest strap, John Lewis Cambridge were so helpful and got me one sent out in the post that day and recieved by the end of the week. Thank you Cambridge staff
10 December 2012
Kettler Unix X Criss Trainer - AVOID THIS IF YOU DO NOT LIKE HASSLE
We bough this Kettler from J Lewis a month ago. We finally got the pack and an external JLweis recommended person to do the assembly work. Last 2 weeks we have spent in communication with Kettler to get the machine to work as there was no resistance to the movement. As a result Kettler sent a new electronics board - which we tried to replace this week-end. Sadly the whole thing feels like an expensive toy with lots of hassle. Tomorrow Monday we start calling Kettler again to get them to replace the whole equipment. We are dreaming of the day when we have a cross-trainer which works. Sad that John Lewis has this quality items for sale.
02 December 2012
Very disappointing.
I've tried two of these Kettler cross trainers. The first one developed a loud intermittent creaking noise from the flywheel unit and its replacement was returned as well due to multiple faults. Be aware that because of it's packaging this product is not at all easy to return. The Kettler packaging is bad. Very bad. It's flimsy cardboard and the some of the cross trainers parts just seem to just sit loosely on the inside. Its basically in two parts. The cross trainer sits on a thick cardboard tray at the bottom and the rest of the box sits over that tray as a cover. The tray and cover are connected together by machine fitted nylon straps. To remove the cover you have to cut the straps. Once the straps are cut there is no way to refit them. So if you are sending back this machine securing the tray to the cover again is extremely difficult. I needed help from friends and the machine had to be physically lifted off the ground (its heavy to lift) while I wrapped duct tape under the cardboard tray and around the cover. This had to be done a lot of times to give the box any rigidity at all. The Kettler packaging makes this product is extremely difficult to return.
25 October 2012
Amazing Cross Trainer
Great things come in small packages. This Cross trainer is just over two meter's in length but gives you a large stride due to the Extended Motion design, the foot plates you stand on actually move giving you a very smooth natural motion. It also has four user profile settings allowing you to input your personal data. Amazing resistance levels that you can really feel working your core muscles and a crazy 48 programs aimed at working different muscle groups giving you a more personal workout.
29 November 2011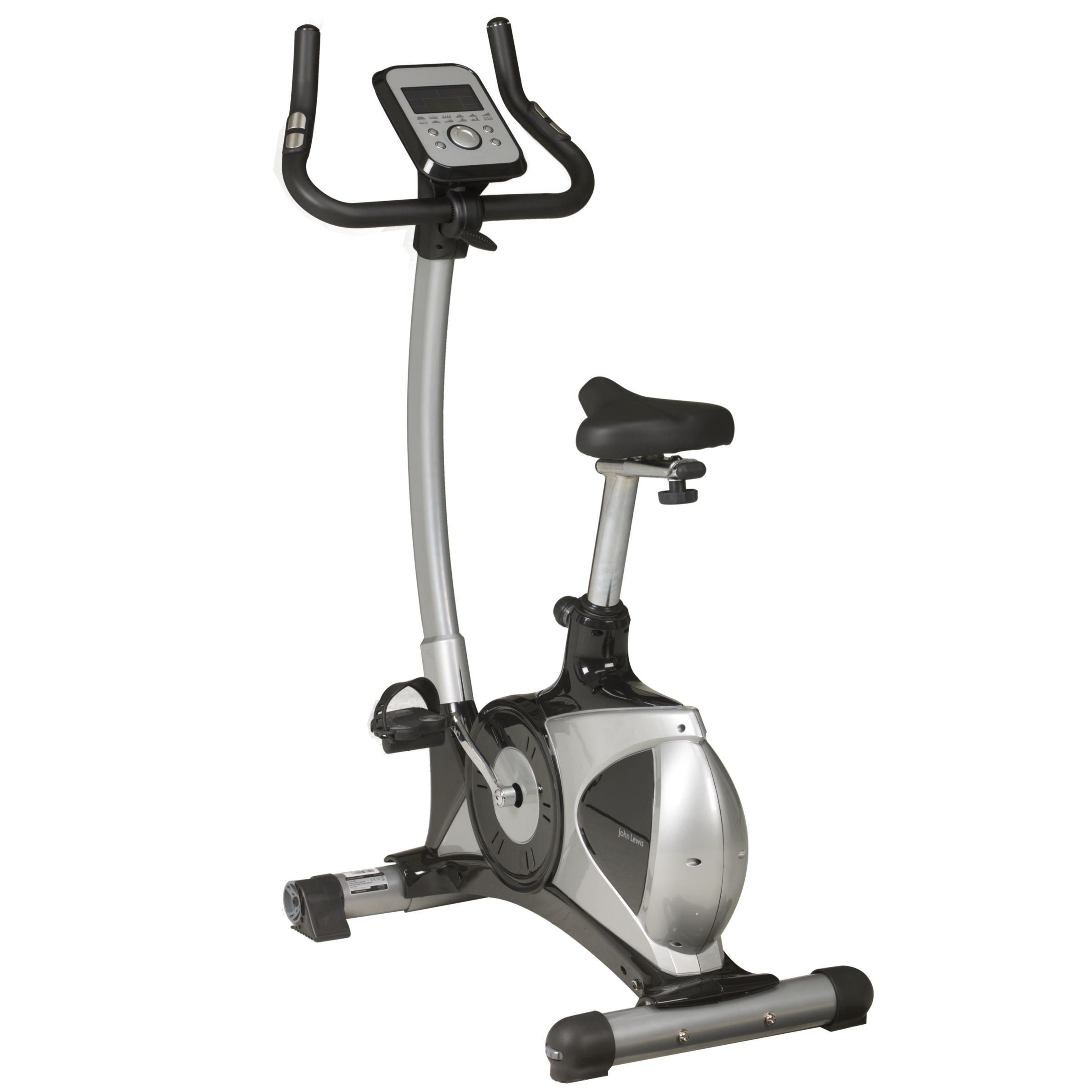 Free UK mainland delivery within 7 working days; may be longer for N Ireland, island and rural postcodes