Samsung's new Smart Technology
Smart TV The stunning new Samsung F8000 Smart LED TV
featuring S Recommendation with Voice Interaction

Samsung's S Recommendation technology with Voice Interaction lets you discover more of the TV you love by suggesting what's new to watch based on what you like. It intelligently learns your preferences, the more you watch the smarter it gets. All you need to do is ask your TV to find you something to watch, it will respond to your natural voice and instantly search live TV, video on demand services and apps to recommend TV and online content tailored to you. Now you'll always know what's on without the need to
look for it.
Immediate access to your favourite shows
As soon as you turn your TV on, Samsung's Smart Hub provides immediate access to all your favourite shows via the On TV screen and cleverly organises and manages your content into five panels – On TV; Movies & TV Shows; Photos, Videos & Music; Social and Apps. The intuitive interface uses easily recognisable thumbnails for instant previews to help you choose.
New ways to control your TV
Smart Interaction lets you interact with your TV in a whole new way, through advanced Voice and Motion control. Simply talk to your TV to control it or using everyday language just ask it to find you something to watch for an amazing personalised TV experience. Motion control lets you simply wave at the TV and take charge. You can change channels and the volume level with ease.
Future ready TV
Concerned about 2013 technology going out of date? Well don't be. Samsung's Smart Evolution technology enables you to completely upgrade your TV's performance in line with new technologies in terms of performance, features and content, keeping your TV bang up to date for a fraction of the cost of a new TV!
Best in class picture quality
The Samsung F8000's Full HD LED display delivers breathtakingly lifelike images time after time, even for fast-moving sports or action movies. New Intelligent Viewing technology ensures that irrelevant of the source, or type of content you're watching images are automatically optimised so they appear clear and crisp.
Beautifully designed to complimentany living room
The new Samsung 'One Design' style with super slim bezel and sleek eye catching arc stand not only means this TV looks stunning, but it allows you to see more of the picture and less of the frame. A clean black design compliments the stunning
silver frame.
Samsung 7 Series Soundbar
The perfect partner for the F8000 LED TV*
Get the full entertainment experience and enjoy the convenience of wireless sound with Samsung SoundShare. Easily synchronise your F8000 to your Series 7 Soundbar wirelessly via Bluetooth for a clean and effortless enhanced sound experience.
*Applies to 46in and above F8000 LED TVs.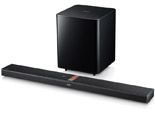 Enjoy a FASTER, SMARTER experience
With Samsung's Quad Core processor, you will enjoy powerful multi-tasking capabilities so you can watch TV whilst downloading or using an app at the same time, without experiencing slow-down in either activity.
Samsung Smart TVs with ALL catch up TV services
Never miss any of your favourite comedy, drama, action, sports or radio programmes ever again. Samsung Smart TVs now boast all the catch up TV services – ITV Player, BBC iPlayer, BBC Sport, 4OD* and Demand 5. The Samsung F8000 Smart LED TV also comes with built-in Freeview HD and Freesat.
*4OD will be available from spring 2013.